Welcome to the CrossFire HD Wikia
We are currently housing 14 articles since June 2018, 459 edits have been made... so far!
Welcome
Welcome to the CrossFire HD (a.k.a CrossFire 2) Wikia! The long awaited sequel to CrossFire is finally on its way! The closed beta will start on the 19th September 2018, check out the official website for more information. We'll make sure to keep this Wikia up to date, whenever more stuff is revealed! Enjoy your stay and feel free to contribute if you get into the beta!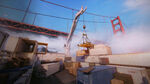 Ship
is a launch Team DeathMatch map sets on a transport ship travelling near the Golden Gate Bridge in San Francisco. It is one of CrossFire's most popular map, which should make avid fans happy for its return in this new colorful environment.
Latest activity
Closed Beta
On September 19th