Article in progress!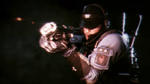 Special Weapon Mode
is a team based game mode that works exactly like
Team DeathMatch
, in term of format and goals. The main difference is the arsenal restriction in place, which forces both factions to use a specific type of weapons for the entirety of the fight.
Availability
CF China: Special Battle (Coming June 16th, 2018)
Description
In this mode, depending on the host's choice, everyone in the match will be forced to uses one of the following weapon types: melees, sidearms or sniper rifles only. Some of these are map specifics, as they are made with that restriction in mind. This mode can offer a good practice environment while also providing variety for avid Team DeathMatch users.
Maps